I was going back through old notes and found some notes.
As I focus on other topics, I still want people exploring the martial art side of Pramek. Seminars were one of my favorite things about Pramek – meeting people, talking to them, correcting them, learning from them. For a teacher, it's beyond any other form of teaching, even when the $$$ flow in from videos – seminars are truly where it's at.
But, classrooms are too, and I wanted to give people a chance to see how I used to run seminars, with some video examples.
So, what better way than to give you a blueprint!
A few notes here.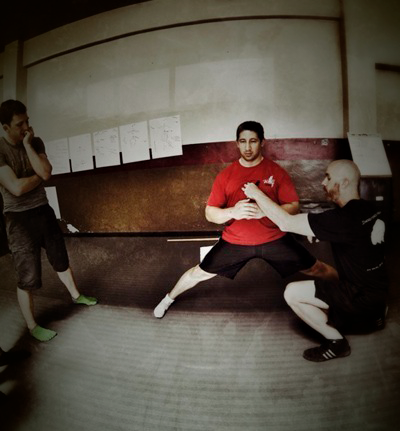 First, over the years, we learned that Pramek seminars must be time-sensitive. We aren't teaching technique after technique, we are teaching T+M=A. That requires time and timing. Students have every chance to go home and explore what they learned, but they have a minimum time with the teacher. Letting seminars have a wide margin for time frame hurts the student when you have a CLM based methodology that requires a ton of written notes. I routinely would go through a full flipchart pack (30 pieces of paper) and ask students to write it all down. With this in mind, everything in Pramek seminars was adjusted to how long we had found (through EPL and DPT) that students retain before they are either tired, frustration, or wanting to do something else.
Second – frustration – EPL and DPT are designed to prevent this, but it does happen. When you have a time limit, you can use EPL to adjust a student to minimize their frustration, knowing that eventually time is gonna come up and the next topic would be fresh. Don't move on because one student is frustrated, EPL them. If they are all frustrated, that's you, not the students, and you have to be able to ascertain the reality of your teaching level to the students learning level. Don't discount this – sometimes you can teach over a skill-set of the course. If 2 people out of 20 are getting it, you're teaching over the skill-set. Conversely, if 18 people out of 20 are breezing and looking bored, walking around – you may be under teaching. But, don't change the topic, be creative. CBTM them, change partners, add new scenarios and complexity until the time ends.
DO NOT keep it going just because the timer on your phone beeped. Students are there to be challenged, as are you the teacher in your ability to adapt to the students. Time, and timing, are vital in martial art learning. Getting a group to all get it, with 51% having a challenge but still pull it off, is what you are gunning for at minimum. The only time that changes is DPT Scenario training, which no one should get on the first try if you don't let them help set up.
Any less, or any more, and examine your teaching time and subject matter.
I put notes in [italics] on each so you can see the process!
__________ seminar __________, 2016
8–830 – intro and waiver/ID collection [photo each ID with waiver]
830-9 – warm up with The Helix & The Gear exercises [basic exercises on each, no complex movements, only warm ups, with 3 point striking incorporated so students get a since of the combative applications of the movements]
9-930

Adaptive combatives – adapting combatives to the natural sciences to create a better understanding of survival, create short cuts, knowing what works through science before learning what doesn't in real life

Theory – screw and plane in arm movement Movement – rope stretch, forward roll, screwing movement to create plane [this starts standing, and moves to rolls, which teaches students the movement in different planes]

Our 7 sciences…. Physics, mechanics, biomechanics, kinematics, neurology, psychology, strategy Putting them together for an application [best put on a white board to explain the T+M=A concept]
930-10 – heq
930-10 – heq physics and mechanics
1015-11 – explore heq
Shearing  [purpose of the seminar was working mechanics to get to take downs]      

Disrupting our adjusting movement – compensation, dampening, balancing

Grab, step through, pause, move to balance and explain LBA and cm,

Breaking structure = getting outside of LBA through damage

How to get to heq – great example below:
11-12 – levers [mechanical explanation on whiteboard combined with basic methods]
11-1115 – classes of levers and uses working up the body based on what isn't working [start with DPT stress testings, so partners feel resistance, work up to fatigue]
1115-12pm – exploration [let students work at their own pace, never over 50% resistance, set up scenarios and let students CBTM]
Lever for release –

Note: Sitting down into the lever, keeping back always straight [I make notes for what I see students have issues with in consistent seminars, so I make sure I remember to address it]
class 3 Lever for damage –

Lever to heq – body levers
12-1 – wheel and axle
12-1215 – theory and use of multiple methods [students can only absorb so much, stick with 2, maybe 3, and focus on the 2 that are working best for the group]
use diagrams

R = resistance force, i.e. the weight of the bucket in this example. Eactual = actual effort; force, the force required to turn the wheel.
1215-1230 – grabs [work on basics of where to grab and how to grab, nothing to complex]
A great example here
1230-1245 – wheel and axle for dive defense
1245-1- lever to wheel axle to heq [start putting it all together]
1-2 – Lunch [lunch is important, as are water and snacks throughout the seminar – lunch should be 30 mins to go get lunch and come back, 30 minutes to talk about what we've covered while people refuel – plan to teach during lunch, so you should be eating constantly through the day to keep up your mind-power!]
2-3- striking [see Combative Striking – I would usually focus on the topics below]
2-215 – impact vs contact, a body in space, combining
215-245 – power generation and basic strikes – [watch Combative Striking]
teach – notch, cupped ear, knife hand [this is combatives, not boxing – if the students need basic boxing, walk through stance and mechanics, then move to hard strikes]

strike to get to goal [make the goal HEQ!]
3-4 – explore all principles as team or couples [CBTM from CLM 4] – explain CBTM and DPT and the process for explorations [decide how you will address based on the group]
Attacking and defending based on

Keep a closed chain and other attack
4-5 – EPL- DPT – how I teach, how you learned [it's important to talk about the CLM in courses, as students don't understand what's happened through the class, but once you address CLM it all makes sense]
Use grab as example

The basics of teaching

Learning types – teach to types

Constant change within a theme

Ensuring we never have an overload of failure

Succeed, come back to failure

The role of the teacher

Know the learning type and teach to it

See who's failing and ensures their success
Movement break – 5-530pm [this winds it all down, it reinforces the movement from the beginning of the day, plus gives you a chance to spot biomechanical deficiencies and correct them, as well as short cutting]
forward roll

laying, kneeling, standing