For over a decade Pramek has pushed the cutting edge of the martial art world, combining movement, science, and constant evolution...creating a true scientific method of training under stress.  Founded in Atlanta in 2004, Pramek has grown from a garage training group to a world-wide movement with it's own learning system, dozens of instructional products, and seminars throughout the world.  
With a history of innovative products and programs, Pramek is a cutting edge combative system with a proud history, development,  and expansion.
Our internally developed learning system, the Conceptual Learning Method (CLM) is based on pure teaching science, PhD approved, and tested by thousands.
Science is the unfair advantage.  This is why Pramek products, from fighting to movement, are based around science first, science second, science third.
The Blog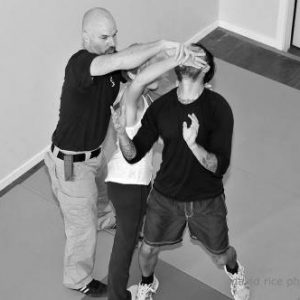 Preview coming! The full 2 hours of Breaking Balance in a two video series! Due to the problems many had with the original Breaking Balance Interactive Manual, we have decided to release Breaking Balance as a full video: HEq. Make sure you pick it up now here! Topics include the following: Video 1 (1 hr) […]
Standing Joint Locks… Do they work? Pramek Instructor Dave Dempsey walks us through the concepts of the standing joint lock and what the realities of these holds are in reality.
Matt teams up with Dr. John Landry, an over 20+ year law enforcement veteran and well-known defensive tactics instructor, to talk about what do you do when the pistol doesn't fire. Handgun self-defense doesn't always include a round successfully discharging. When there is a failure, you need to have options. In this video Dr. Landry […]
Read more on our blog