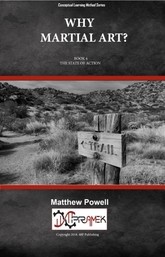 This book was almost ready in 2016…then I realized, I personally wasn't ready to release it. It needed work – the training methodology it presents needed some adjusting, and more importantly, the philosophical message behind the book…I needed to absorb.
2 years later, here it is, warts and all.
CLM 4: The State of Action.
From it's dedication to it's end, CLM 4 is a declaration like few have made in the martial art world.
The long awaited fourth installment in the CLM series, The State of Action asks, then answers, the most important question of martial art: 'why?'
Taking challenging topics, such as existence, time, survival, and pedagogy, CLM 4 looks into the question of 'why martial art', and answers it.
(This is a virtual product, with zip file including a .pdf, .epub, .mobi in the zipfile)
[su_button url="https://pramek.com/product/clm-manual-4-the-state-of-action/" target="blank" background="#951f32″ size="6″]GET CLM 4 IT NOW![/su_button]
– Martial Sophistry and changing how we look at martial art teachers
– The toughest question a martial artist can ask: 'Why?'
– Levels of Survival (The LoS): what you truly fight and train for
– A New Concept of Martial Art
– The Pyramid of Action and how to Organize Your Training
– The Concept of 'Time' in Fighting
– The Concept of OODA, it's applicability, and using it it in training
– Feedback Loops, Panic, and how to stop both
– Managing time in the fight
– The 'here' and 'there' of combat
-' There', being, and existence
– A Foundation for answering 'Why?'
– The 4 Confidences, their element, and their enemies
– Gaining the 4 Confidences in your martial art study
– What is the concept of 'Action' in martial art and how to take it quickly
– A new training model: CBTM, or Communication Based Training Method
– Getting to know the student: Effective Student Disclosures
– Going Forward…a declaration
[su_button url="https://pramek.com/product/clm-manual-4-the-state-of-action/" target="blank" background="#951f32″ size="6″]GET CLM 4 IT NOW![/su_button]